Don' Waste Your Time with Ads.
Watch Without Interruption.
PlayOn Desktop lets you record your favorite streaming TV shows and movies and then watch them commercial-free on your PC, Roku, Fire TV, Chromecast, or Xbox.
You can also download your recorded streaming shows or movies and put them on your iPad, iPhone, Android phone or tablet.
Just find the show you want to record in PlayOn Desktop, and hit record. When your recording is ready, just hit "Cast with AdSkip" to watch without the commercials.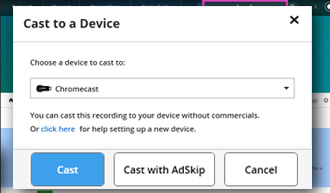 Automatically Record Streaming TV Shows As They Come Online
Set up subscriptions to your favorite streaming TV shows, then they'll automatically be ready and waiting for you to watch without ads. Download your recordings to your iPhone, iPad, Android tablet or stream recordings to your TV. Skip the commercials. We make TV better.
How It Works
When PlayOn makes a recording, chapter marks are inserted where the commercials are inserted in the stream. During playback, all of the PlayOn player apps (like the PlayOn iOS or Android app, the Roku channel, or the Chromecast or FireTV casting app) have logic built in to skip from the beginning of the commercial to the end — giving you a seamless ad-free viewing experience.