"This app allows me to bring my favorite shows with me when I'm travelling. I download recordings to my devices and I can watch anywhere offline."
"I watched all my downloaded shows on a cruise recently. Worked great where there is no WiFi."
"Truly a lifesaver for long haul flights and travel. Recording quality is A+ and low cost."
"I live on sketchy internet that buffers too much. I can download what I am going to watch ahead of time and know that my evening will not be ruined."
"Works so well that we've decided to cancel cable tv. Terrific interface is easy to use and navigate."

"A brilliant way to time-shift programs from multiple sources for viewing on your digital devices at home and away."
"Great app! I use it primarily for HBO GO, as that app only permits streaming."
"A must have app if you travel and are often without service."
"PlayOn Cloud is fantastic for travel, especially when WiFi bandwidth is too limited or too poor to support HD viewing."
"So great to be able to take any show and watch it offline on my android tablet! "
A New, Better Way To Stream.
With the PlayOn Cloud SVR (streaming video recorder) mobile app, all of your favorite shows and movies are at your fingertips. Record any video from Netflix, Hulu, Amazon Video, HBO, The CW and so much more with just the click of a button. Then watch commercial-free, anytime, anywhere, even offline.
» See the full list of channels you can record from
Record & Download Streaming Videos.
Take streaming videos with you on any device — get 20 recordings for just $4.99. Perfect for long flights, on the bus or train, overseas, or anywhere you want to watch your favorite streaming movie or show and there is no WiFi. No more missing shows because they've been taken offline; no more frustrations with slow or no internet while traveling. Just find the streaming video you want to watch later, hit the record button, then download your completed recordings. Sound easy? That's because it is.
All You Need is Your Phone.
Easily browse and find shows and movies from your favorite streaming sites. The PlayOn Cloud mobile app will record your selections in the cloud. It's easy to sync your recordings across iOS or Android devices or download recordings to another device. Automatically skip the commercials when you watch recordings of ad-filled shows and movies. You can also download recordings to your PC to watch on your TV via a Roku, Chromecast, FireTV or Apple TV. Your first recording is always free!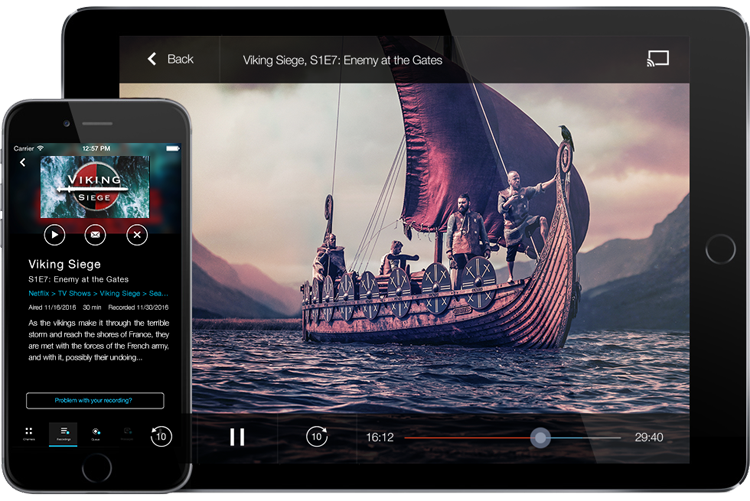 How It Works
PlayOn Cloud is a streaming video recorder (SVR) located in the cloud. When you select a video in the PlayOn Cloud app, we start a stream on a virtual PC in the cloud and record that stream like a DVR records cable TV. Once that recording is complete, an .mp4 file will be ready for you to enjoy. You can download the recorded.mp4 video file from the PlayOn Cloud app onto your mobile device. We also email you a download link to the video so you can download it from anywhere onto any device or computer.
When you watch your downloaded video through the PlayOn Cloud mobile app, it will ask you if you want to skip the commercials – hit yes and voilà. It's technology for the new way we watch TV.
All recordings will be stored in the cloud for a complimentary 7-day period. Or, you can store in the cloud for longer with a PlayOn Cloud Recording and Storage plan.
PlayOn Cloud Vs. PlayOn Desktop
Is PlayOn Cloud right for you? What's the difference between PlayOn Cloud and
PlayOn Desktop
? Here's quick breakdown.
PlayOn Cloud

Vs.


PlayOn Desktop?

Is PlayOn Cloud right for you? What's the difference between PlayOn Cloud and

PlayOn Desktop

? Here's quick breakdown.
No PC/Mac required


Record and download from anywhere on your phone

Downloads never expire


Offline viewing on any device or computer


Automatically skip commercials when you watch


Off-peak downloads


Cast videos to TV

Record entire seasons with one click


Automatically record new episodes