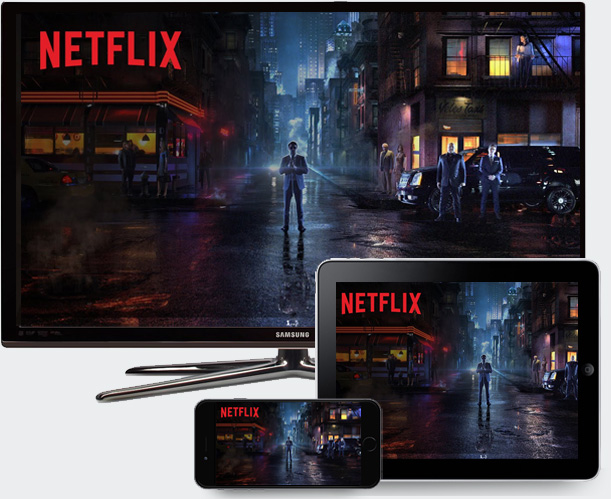 The simplest way to record and download any Neflix movie, Hulu show, or other streaming videos for offline playback.
PlayOn is the Streaming Video Recorder (SVR) that can record and download any streaming movie, show or video from sites like Netflix, Hulu, Yahoo View (which is basically ad-supported Hulu), HBO, Amazon Video, and more. Record titles even if they don't have a download option from the provider. Simply record streams and you can even transfer the .mp4 recordings to any PC/Mac or another device— your downloaded recordings will never expire. Skip the ads when you play back recordings of ad-supported network TV shows.
It's the easiest way to watch streaming videos offline on your TV, tablet, computer, or phone.
Many options to record from including:













Choose the right streaming video recorder app for you.

PlayOn Desktop is a robust streaming video recorder software for your PC and so much more. Use it to record, cast or stream directly from streaming sites. Or use it as a local media server for your personal videos and photos.

PlayOn Cloud is the streaming video recorder app for your iPhone, iPad, Android phone or tablet. No PC needed. Store recordings in the cloud for 30 days. Download recordings from the cloud to any computer, phone, or tablet.

Channels included:

100+ channels including Netflix, Hulu, Amazon Video, HBO and pretty much any streaming site.

>>

Take a look at the full list

Channels included:
Netflix, Hulu, Amazon Video, HBO, Yahoo View, Fox, NBC, ABC, CBS, PBS, The CW, and YouTube. More to come.

.40 per recording. Get a free credit when you sign up.

Subscribe to a series and record new episodes when they come online
Record an entire series with just one click
Schedule recordings during off-peak hours or any hour

PlayOn Cloud lets you easily sync your recordings across your devices. Easy access anywhere, anytime.

Download/transfer recordings to your computer, phone, or tablet. No internet connection needed. Downloads never expire.

Skip commercials on ad-supported movies and shows.

Looking for PlayLater? PlayLater is now part of PlayOn Desktop which combines streaming, casting, and recording into one easy-to-use interface.

Get PlayOn Desktop

for PCs to record and download unlimited shows and movies so you can watch on your own time.

Or check out

PlayOn Cloud

— a streaming video recorder app which records streaming videos in the cloud for iOS or Android devices.

How to Record And Download Streaming Videos From Netflix, Hulu, and Other Streaming Websites with PlayOn Desktop: With PlayOn Desktop (or PlayOn Cloud), you can be recording and downloading streaming movies and shows to your computer, phone, or tablet in no time.

Download PlayOn and install it on your PC. You'll be recording in minutes.
Open PlayOn Desktop, click on the Channels Tab, click on Edit Channel Settings in the upper right hand corner, then enter your Netflix Account info — this lets PlayOn access and record your Netflix account – your credentials are kept secure.
Browse to Netflix, Hulu (or any other streaming channel) for the show or movie you'd like to record.
Click Record. Now – you can close the PlayOn window and use your PC to do whatever you like. PlayOn will record the entire video in the background and you'll get a notification when it's complete.
Once the recording is complete, you will have an .mp4 file that you can download to any device you'd like. Or cast recordings to your TV with a compatible device.

Want to learn more? Take a look at PlayOn Desktop features.