Streaming During "Stay Home, Stay Healthy"
---
April 22, 2020 | Tracy's Blog
---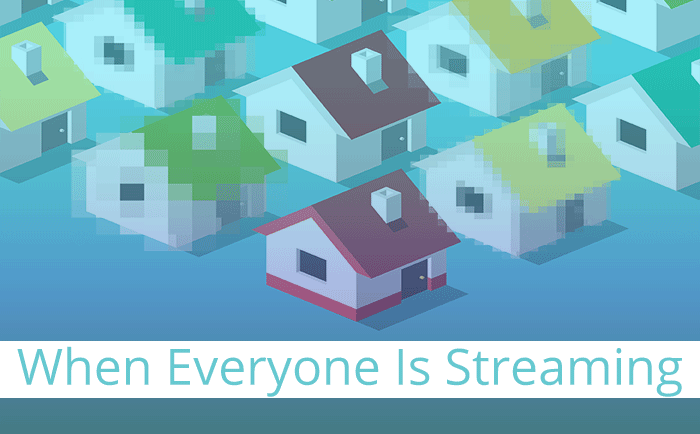 Life has changed so dramatically in the past 2 months. My town of Seattle looks nothing like it did in February. I'm sure yours has changed immensely too. Life indoors looks different too. With our change in behavior patterns has come a dramatic shift in streaming behavior. For folks working and schooling from home, bandwidth is often tapped out.

According to Will Richmond, a new survey released by video ad platform Unruly has found that time with connected TVs has surged in every age group. Those reporting to spending "a lot more" or "a little more" time than before on connected TVs:
18-24 year-olds (66%)
25-34 year-olds (76%)
35-44 year-olds (72%)
45-54 year-olds (60%)
55+ year-olds (46%)

Streaming and social media research firm Conviva found that streaming skyrocketed in March. "On a global scale, streaming jumped more than 20% as compared to two weeks prior, with the Americas contributing significantly, up nearly 27% in the same time period". They also found that daytime viewing jumped nearly 40% as compared to two weeks prior while Primetime viewing decreased.

Streaming Starts Earlier in the Day
Ratings giant Neilsen reports that across their 56 largest metered markets: "Streaming increases have been persistent across all hours of the day. However, the most significant gains have been in the early afternoon hours. Historically, few adults would be home during these hours, but with the lifestyle changes created by stay-at-home orders, we saw more than 50% increases in streaming from 1pm-4pm across markets between the weeks of March 2, 2020 and March 23, 2020. Further, these hours are up over 100% from the same week a year ago."
So, not only are people using their bandwidth to work/learn via Zoom and Hangouts, but they are also streaming more and the pattern of streaming usage has also increased tremendously during daytime hours. It's a triple whammy:
Your bandwidth has more people using it all day to work and school remotely.
Those that aren't using it for work/school are streaming more than before.
And they are starting to stream from earlier in the day.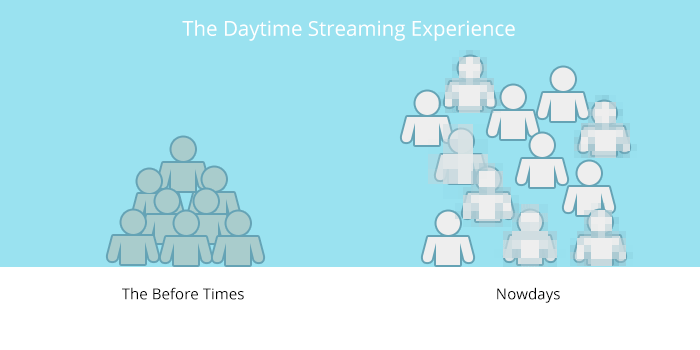 Save Your Daytime Bandwidth with Free Recordings from PlayOn
At PlayOn, we offer an option to watch your streaming content during the day—but using your nighttime bandwidth. We call it the Off-Peak Download feature: You select the shows and movies you want to watch tomorrow and set them to auto-download overnight when no one is using your internet connection. Then, you watch your videos (which are stored on your own device) the next day without pulling bandwidth from your family or neighbors who are trying to work or learn. We have seen a 10% increase in off-peak download usage since March 15th. We expect that trend to continue.

We are delighted to do our part to help shift streaming bandwidth usage out of the daytime hours by offering free recordings with our PlayOn Cloud service.

Happy streaming and stay healthy!
Sources:
https://www.videonuze.com/article/survey-younger-users-increase-mobile-and-ctv-usage
https://www.videonuze.com/article/conviva-daytime-viewing-up-as-much-as-43-in-march-17-23-week
https://www.nielsen.com/us/en/insights/article/2020/streaming-consumption-rises-in-u-s-markets-with-early-stay-at-home-orders-during-covid-19/