PlayOn Channel Store – Rock and Rolling: How to Add 35 Channels to your PlayOn and PlayLater
---
February 2, 2012 | Tracy's Blog
---
Since we launched the PlayOn Channel Store in December, we have added over 35 plugin channels available to PlayOn users. That doubles the number of PlayOn channels to 70, and includes a lot of the niche content that we all love. As of today, the most popular three plugins are:


#1 HGTV (Design Star, All American Handyman, Curb Appeal, Hidden Potential, House Hunters, My Yard goes Disney,Property Virgins, Real Estate Intervention, Spike Up My Kitchen, Tough as Nails, and many more)


#2 TV Land (with classics like Everybody Loves Raymond, The King of Queens, The Andy Griffith Show and Gunsmoke; and newcomers like Hot in Cleveland and Happily Divorced)

#3 The WB (Friends, Gilmore Girls, One Tree Hill, Smallville, The OC, Veronica Mars, Chuck, Fringe, and cool new takes like Batman motion comics)
Installing a plugin is super easy.
1- You just go to the channel store: http://www.playon.tv/channel-store/
2- And find a channel you want to add to your PlayOn lineup.
3- Click Download on that plugin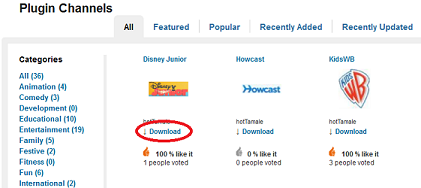 4- As long as your PlayOn is running on your PC, you will see this window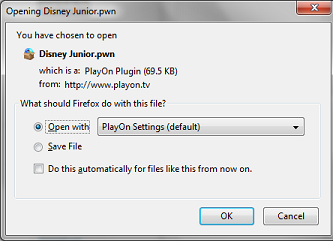 5- Hit OK and then Yes here: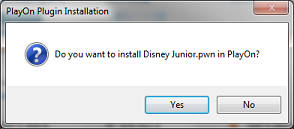 6- When PlayOn Settings opens, go to the General Settings Tab, and click on Stop (to stop the PlayOn Server), count to 20 and click on Start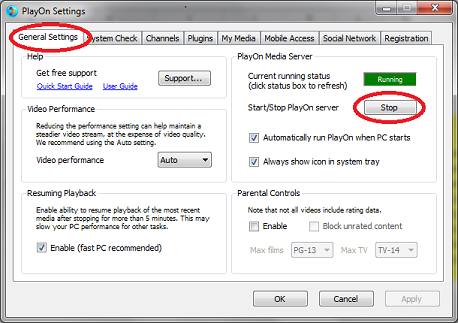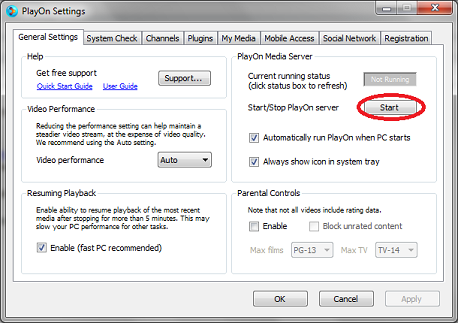 7- Go to your device, fire up PlayOn, watch your new channel!
If you like the channel plugin and it works well (or you don't….), be sure to let others know by voting. To do this – just click on the logo of the channel and then click on the thumbs up or thumbs down to vote!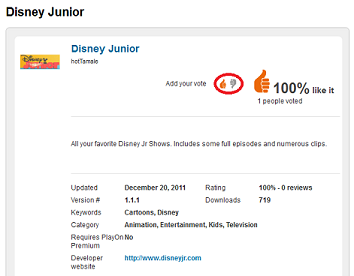 In addition to HGTV, TV Land, and The WB, the other channels available through the PlayOn Channel Store include:
Academic Earth
Beavis and Butthead
BestRussianTV (Live and On Demand Russian TV)
Bravo
CBS College Sports(BTN)
CBS Local
Chow
Countdown with Keith Olbermann
CSpan Live Feeds
Disney Junior
Free Radio
Giant Bomb
Howcast
KidsWB
Logo
Nascar
NBC.com
Open Yale Courses
Qubo Kids Shows
Revision 3
Rollercoaster POV Theater
Stanford Engineering Courses
Starcade
Storage Hunters
Street Fire
U.S. Department of State
UitzendingGemist
VH1
Wall Street Journal
Warriors of Wrestling
Yule Log
YuppTV (Live and On-Demand Indian TV)
Enjoy PlayOn and PlayLater (our latest product - the DVR for online videos) with over 70 channels available!