Friends is Leaving Netflix | Record and Download Friends with PlayOn
---
December 16, 2019 | Tracy's Blog
---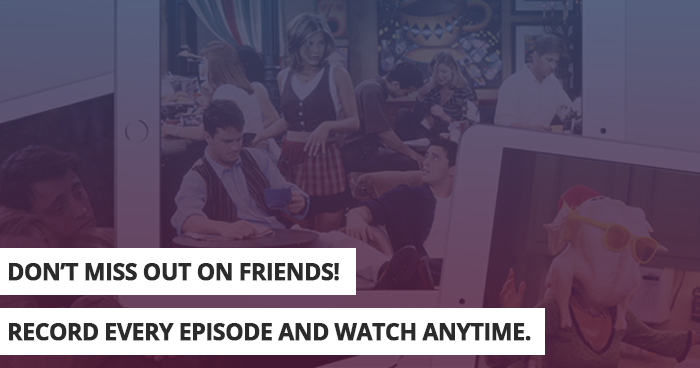 On Jan 1, 2020, just 3 short weeks from now, every episode of Friends will disappear from Netflix. They won't reappear again until May 2020 on HBO Max. But, you won't have to give up the rest of your life to watch all 10 seasons in less than two weeks. PlayOn has your back. With PlayOn, you can record and download seasons 1-10 of Friends. PlayOn downloads never expire – so you can watch Friends on your time.
With our special Friends recording credits offer, you can record all 236 episodes for only $35 (less than 15¢ an episode) and never have to worry again about how to get your Friends fix. But, you better get started recording⁠—since PlayOn records in real time, and there are 87 hours worth of Friends episodes on Netflix, you'll want to add all 10 seasons to your PlayOn Cloud recording queue no later than 12/27/19 to have just a little more than enough time to record them all before they vanish from Netflix. Give yourself the gift of Friends this holiday!
Need Storage Space?
If you want us to store all of your PlayOn recordings in the cloud, get our 100GB cloud plan*. You'll never worry about downloading them or running out of storage. For only $4.99/mo, all of your Friends episodes will be available for you anytime so you can watch or download Friends whenever you want.
The Office is Leaving Too
Yes, sadly, The Office is also leaving Netflix, but don't worry, it won't happen until the end of 2020! So you have plenty of time to laugh at, I mean with, your favorite Office characters. If you want to get ahead of the game, you can check out our Holiday Sale (available for a limited-time only) and get enough recording credits for every episode of The Office (if you use your free credit from verifying your email when you sign up) for only $29.99.
How Much Time Do I Need to Binge Watch All 10 Seasons of Friends?
We are so glad you asked. Whether you want to know how much time you need for a bing session or you're just curious, we have the answer. We've tallied up the total number of minutes for each season of Friends on Netflix for you -- you'll need to set aside about 4 entire days to binge watch all 10 seasons. Luckily, if you have PlayOn Friends recordings, you can still do your holiday shopping and you'll still have plenty of time to watch Friends before it leaves Netflix.
Friends Season 1: 526 minutes (24 episodes)
Friends Season 2: 528 minutes (24 episodes)
Friends Season 3: 551 minutes (25 episodes)
Friends Season 4: 528 minutes (24 episodes)
Friends Season 5: 528 minutes (24 episodes)
Friends Season 6: 530 minutes (25 episodes)
Friends Season 7: 505 minutes (24 episodes)
Friends Season 8: 506 minutes (24 episodes)
Friends Season 9: 568 minutes (24 episodes)
Friends Season 10: 436 minutes(18 episodes)
*The 100G cloud plan will store all of Friends in SD. For HD storage, you'll need a larger plan.