Download Any HBO Show or Movie. No Viewing Restrictions When You Download.
---
November 12, 2019 | Tracy's Blog
---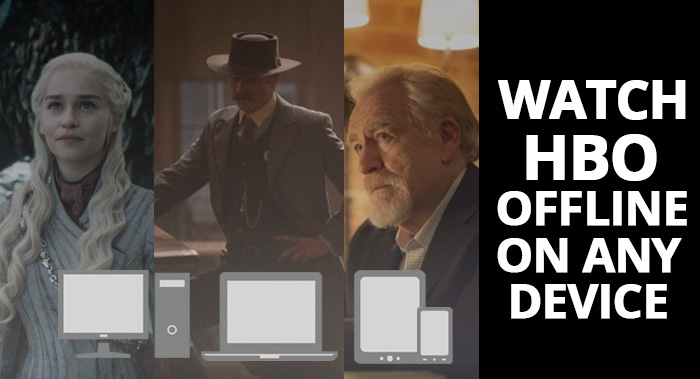 Yes, You Can Download HBO Movies and Shows! Download Any HBO Video to Your Computer, Smartphone or Tablet.
I know what you're about to say — Game of Thrones is over and I've already canceled my HBO subscription. But, before you do, maybe you missed an episode or the entire frenzy (like I did)? Or, maybe you're obsessed with Succession, Watchmen, Silicon Valley, or The Righteous Gemstones (like most PlayOn'ers). While you still have HBO through your cable or satellite provider, or while you still subscribe to HBO Now, you can record any HBO movie or any new or old series or any episodes of your favorite shows that you've missed, and download those HBO videos directly onto ANY computer (PC or Mac), phone, or tablet. With the PlayOn Cloud app for iOS and Android or the PlayOn Desktop PC app, you can download any HBO movie or show and watch when you want on the device you want — even offline with no internet connection.

No Viewing Restrictions. Once You Download A Video, It Never Expires.
PlayOn gives you the flexibility to transfer downloaded HBO videos to any device you desire AND PlayOn HBO recordings never expire. It's a great solution for stocking up on all of the HBO movies and series you want to watch before you cancel cable...or before you remove expensive add-on channels. Just record a bunch of HBO from PlayOn, then download the recordings to any device you want and watch whenever you want. You'll even be able to view it on your TV using a streaming device or gaming console you already own — like a Roku, Chromecast, Apple TV, Xbox or PlayStation. Then you can threaten to cancel cable to get those better rates and give up HBO for a while while still enjoying HBO.

You Can Get An Unlimited Number of Recordings.
Get 5 free recording credits just for starting your free trial with PlayOn Cloud. Additional cloud recording credits can be purchased in the PlayOn Cloud app as needed or you can get bulk recording credits at a discount during the limited-time sale. One recording credit entitles you to a recording of a show or movie of any length.

And with PlayOn Desktop, you'll get unlimited recordings and downloads for a low subscription fee or a one-time fee.


It's really easy to record any HBO video — we've put together a step-by-step tutorial for HBO Now and for HBO Go. With PlayOn, whether you're a cable or satellite HBO subscriber, or an HBO Now subscriber, you can download and any HBO movie or series and watch without restrictions. Learn everything you need to know to download HBO to your computer or device to watch anytime.


Here are some popular HBO movies and shows you'll want to be sure to record and watch:
Top movies:
Glass
Cold Persuit
Aquaman
Happy Death Day to You
Isn't It Romantic
Crazy Rich Asians
Red Sparrow
The Lego Movie 2: The Second Part
Upgrade
Bohemian Rhapsody
A Star is Born
Happy Death Day

Must-see shows on HBO:
Succession
Chernobyl
Deadwood
Big Little Lies
Barry
Game of Thrones
Insecure
Veep
Sharp Objects
The Sopranos
Curb Your Enthusiasm
True Detective
With so much great HBO content to view offline, you'll want to get started right away!