Download Any Amazon Prime Video To A Computer Or Any Device. No Viewing Restrictions.
---
---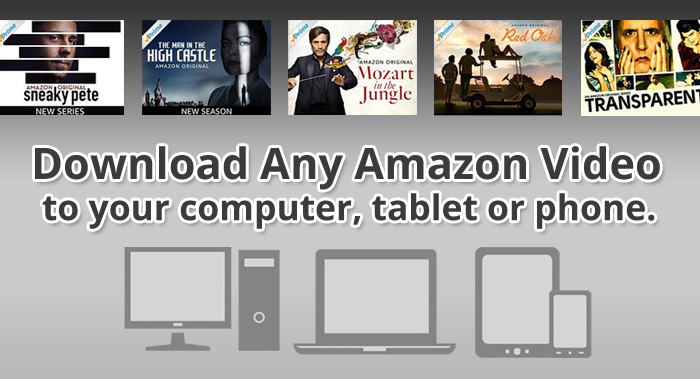 Yes, You Can Download Amazon Prime Videos To Your Computer.
Amazon has really upped their game with their original series - many have been nominated for and have won awards. Haven't had time to dig into Jack Ryan or The Man in the High Castle? Or is The Marvelous Mrs. Maisel or Fleabag more your speed? Or maybe the latest new hit Modern Love based on the popular NY Times column and featuring Tina Fey, Andy Garcia, Oscar winner Anne Hathaway, and Dev Patel? If you have an Amazon Prime account, you can record an entire Amazon series or any episodes you've missed, and put Amazon videos directly onto ANY computer (PC or Mac), phone, or tablet. With the PlayOn Cloud app for iOS and Android or the PlayOn Desktop PC app, you can download any Amazon show or movie and watch when you want on the device you want - even offline with no internet connection.
Hate Commercials? We Have Great News for You.
When you record and download a show or movie from Amazon that has commercials with PlayOn — you can skip right over the ads when you watch your PlayOn recording! How cool is that?! It gets even better. All of the add-on subscriptions that are available via Amazon - Starz, Showtime, HBO, etc, can be recorded and downloaded to any device with PlayOn.


No Viewing Restrictions. Once You Download A Video, It Never Expires.
PlayOn gives you the flexibility to move downloaded Amazon Videos to any device you desire AND PlayOn Amazon recordings never expire. It's a great solution when you rent an Amazon movie and then run out of time to watch it - just record it from PlayOn - then download the recording to whatever device you want and watch whenever you want. You'll even be able to view it on your TV using a streaming device or gaming console you already own — like a Roku, Chromecast, Fire TV, Apple TV, Xbox or PlayStation.

Unlimited Number of Recordings.
With PlayOn Cloud, you get 5 free recording credits just for signing up for a free trial. After that, you can buy as many cloud recording credits as you'd like through the PlayOn Cloud app or get recording credits now at a discount during the limited-time sale. One recording credit entitles you to a recording of a show or movie of any length.

And with PlayOn Desktop you'll get unlimited recordings and downloads for a low subscription fee or a one-time fee.

It's really easy to record any Amazon video – here is a step-by-step tutorial on how to do it with PlayOn. With so much great Amazon content to view offline, I think you might want to get started recording now.