Can you watch Netflix without an internet connection?
---
October 4, 2016 | Tracy's Blog
---
People often ask "Can you watch Netflix without an internet connection?" According to Netflix, the answer is "No." But, with PlayOn Plus, you can easily watch Netflix without an internet connection. Here's how: PlayOn Plus lets you record a Netflix show on your PC when you DO have an internet connection. You can then put that recorded Netflix show on any device (think iPad, iPhone, Android tablet, laptop) and watch that Netflix show or movie when you have no internet connection.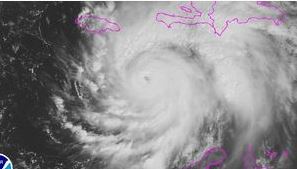 You can also cast that Netflix recording to your Roku, Chromecast, FireTV, or gaming console to watch on your big screen TV when the internet is out. In fact, folks living in the greater Miami area might want to start recording today in anticipation of hurricane Matthew and the havoc he is scheduled to wreak on internet and cable/Satellite connections. When your internet is out, having a store of Netflix movies recorded (along with some bottled water and other hurricane provisions) can help making waiting out the storm much more pleasant!
Recording your Netflix show or movie has the added benefit if allowing you to watch it on your time - and not worry about when it might leave Netflix and leave you empty-handed. You can always see what's leaving Netflix on our handy Leaving Netflix page.
If you think this sounds like a hassle, think again. In just 3 quick steps and you're up and running! Give it a shot. PlayOn Plus carries a 30-day money-back guarantee - so whichever plan you choose, if it doesn't work for you, you can easily get your money back by emailing us. Happy recording!