How to Access Unlimited Bandwidth with Satellite Internet
---
April 22, 2019 | Tracy's Blog
---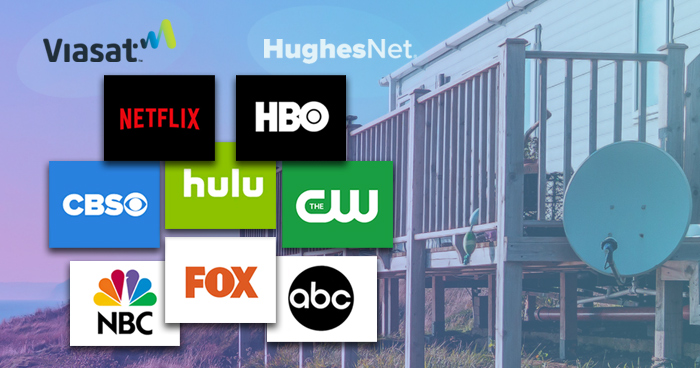 Stream More, Stream Better.
PlayOn has partnered with a number of satellite/fixed wireless internet providers to make the satellite streaming experience even better. Want to know how you can access unlimited bandwidth and end the frustration of network slowdowns as a satellite internet customer? Read on.
The Problem with Satellite Internet:
Satellite internet solves a lot of problems for a lot of people. But satellite ISPs have a "prime time" usage issue — everyone wants to stream video during "Prime Time" — which leads to network slowdowns. What network slowdowns mean for satellite customers who are streaming (ViaSat and HughsNet folks, we're looking at you!) is buffering and grainy video — UGGGG. Who has the patience for buffering during a particularly intense moment of Game of Thrones or wants to put up with grainy video making even Beyoncé look bad in Homecoming?
We Have a Solution:
Enter PlayOn Cloud. With the PlayOn Cloud app, the movie or show you want to stream is recorded in the cloud — where there is unlimited bandwidth (and no buffering). Recorded videos are then downloaded directly to your device overnight (not during Peak and therefore not using your Peak Data allowance). Now, you can watch and enjoy your streaming videos locally and offline – without using the internet, anytime you want. You can even cast videos to your TV with a Roku, Chromecast, or FireTV or via AirPlay with an Apple TV.
See How To Set Up PlayOn Cloud For Automatic Downloads During Off-Peak Hours
We created this handy video to show you how to set up your PlayOn cloud app specifically if you are a satellite ISP subscriber.
Are you a Viasat or HughesNet subscriber? Learn more about PlayOn and how we can help satellite internet customers like you stream more and stream better.
Or, download PlayOn Cloud to get started.