Most Downloaded Series from PlayOn for the Week Ending 11-16-2020
---
November 17, 2020 | Tracy's Blog
---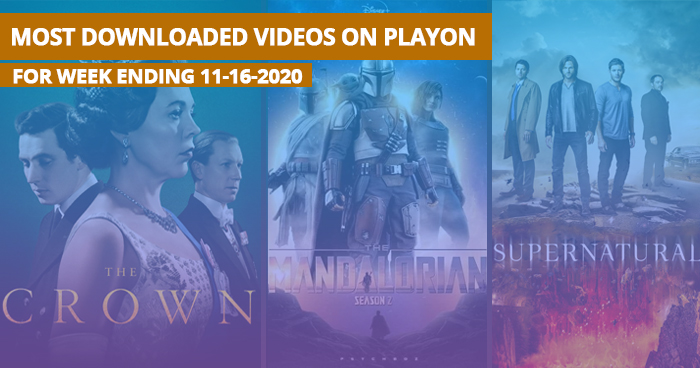 All hail the Couch Potatoes. German advertisements are praising those of us who'd rather cuttle up on our couch and binge watch. No longer lazy, unproductive, and good-for-nothing, but in fact, we are the model of desired behavior—the biggest defense humanity has against the raging Covid-19 pandemic. PlayOn users seem to be staying home, staying safe and watching LOTS of TV. I'm changing up this week's results to look at the most popular series recordings. Of note, there were no movies in the top 20 downloaded videos...but if you aggregate all of the episodic recordings in the past week by series name, here's what you find.
Most Downloaded Series from PlayOn for the Week Ending 11-16-2020
The Crown (Netflix) locks up the top spot by releasing all 10 episodes of Season 4
The Mandalorian (Disney+) comes in at the 2nd most downloaded series (with only 3 episodes available)
Supernatural (The CW) comes in at 3rd as the most downloaded series (but the latest episode is still the single most downloaded recording)
Once Upon a Time (Disney+) jumps onto the scene as the 4th most downloaded series
Grey's Anatomy (ABC) just released it's first 2 "Covid Pandemic" episodes
Star Wars: The Clone Wars (Disney+) remains in the top 10
Two and a Half Men (Peacock)
Chicago Fire (NBC)
Chicago P.D. (NBC)
Chicago Med (NBC)
Get 5 FREE PlayOn Cloud recordings

PlayOn is happy to fuel Couch Potatoes. Get 5 free recordings by entering the code TURKEY in the Redeem Code field—located in Settings > Redeem Code in your PlayOn Cloud app. Stay home, stay healthy, download PlayOn videos and stay lazy.