Our Guide To Classic Thanksgiving Entertainment Not to Be Missed
---
---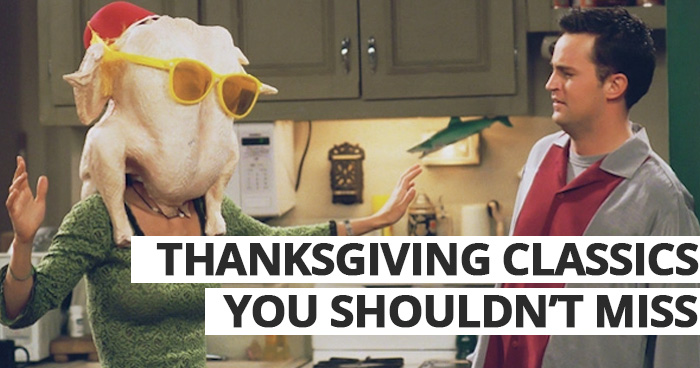 Thanksgiving is right around the corner. Apart from being thankful for the amazing PlayOn team with whom I have the pleasure of working each and every day, I want to express my gratitude to each PlayOn customer - for using our products, giving us actionable feedback, tolerating our occasional bugs, and rapidly adopting our new features and paradigms. Without our customers - recording, watching, casting, and yes, submitting support tickets, we'd be nothing. So - Thanks!
I am also grateful for PlayOn Cloud - as I am loading up on recordings to make my holiday travel (with an 8 and 10 year-old in tow) a breeze. Since I am trying to get the family in the "gratitude" mood during our travels this year, I have collected some all-time favorite Thanksgiving shows that I am excited to share.
We're also saying thanks to our not-yet-lifetime-members by chopping $20 off the price of lifetime and throwing in 20 free PlayOn Cloud recordings with every Desktop Lifetime purchase. You can install the PlayOn Cloud app (just search PlayOn cloud in your app store) on your iPhone, iPad, or Android device and record more than enough programming to keep the family entertained for even the longest of Thanksgiving treks!
Thanksgiving/Feasting Movies
Home for the Holidays - Amazon
The Big Chill - Amazon
An Old Fashioned Thanksgiving - Amazon
No Reservations - Netflix
Thanksgiving TV
Hulu (or Yahoo View)
WKRP in Cincinnati - Season 1, Episode 7 - Turkeys Away
New Girl - Season 6, Episode 7 - Last Thanksgiving
Family Guy - Season 10, Episode 6 - Thanksgiving
Full House - Season 1, Episode 9 - The Miracle of Thanksgiving
Cheers - Season 5, Episode 9 - Thanksgiving Orphans
South Park - Season 15, Episode 13 - A History Channel Thanksgiving
Iron Chef America - Season 8, Episode 34 - Thanksgiving Showdown
Chopped - Season 16, Episode 12 - A Chopped Thankgiving
Netflix
Friends - Season 3, Episode 9 - The One with the Football
Friends - Season 5, Episode 8 - The One With All The Thanksgivings
How I Met Your Mother - Season 3, Episode 9 - Slapsgiving (!Leaving Netflix on 11/13!)
Gilmore Girls - Season 3, Episode 9 - A Deep-Fried Korean Thanksgiving
West Wing - Season 2, Episode 8 - Shibboleth
Parenthood - Season 2, Episode 10 - Happy Thanksgiving
New Girl - Season 2, Episode 8 - Parents
and for the little ones:
ABC
A Charlie Brown Thanksgiving
Amazon
Daniel Tiger - Season 2, Episode 4 - Thank You, Grandpere Tiger! / Neighborhood Thank You Day
A Thanksgiving Tale
The Spirit of Thanksgiving
YouTube
Garfield's Thanksgiving
Home for the Holidays: A History of Thanksgiving (Full Documentary)
The use of third-party trademarks on this site is intended to imply neither any endorsement by nor any affiliation with the respective trademark owners.