Some PlayOn Love for Cord Trimmers - Record Xfinity and TWC Without Paying DVR Fees
---
June 14, 2016 | Tracy's Blog
---
PlayOn Plus is giving cord trimmers - folks who are reducing their cable costs by using low cost streaming services where practical - another reason to celebrate. We just launched a TWC channel to go along with the Comcast Xfinity channel launched late last year.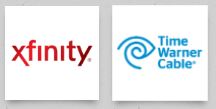 PlayOn Plus lets you record any content available on the Xfinity or TWC website or in their apps and then watch those titles offline or any time, without ads. After the delightful reception the Comcast Xfinity channel received, we wanted to extend that to a broader audience. Xfinity subscribers have reported to be saving upwards of $15/month (that's > $150/year) by ditching their DVR service from Comcast and using the PlayOn SVR (Streaming Video Recorder) to record Comcast shows and download to any device - and watch without Ads. For them, PlayOn is an untethered, software DVR that is significantly less expensive.
If you're an Xfinity or TWC subscriber and want to check out whether PlayOn is right for you - here's how:
Step 1: Download and follow the installation instructions for PlayOn. PlayOn is free software that organizes over 100 streaming sites and your personal videos into a unified dashboard. It enables you to watch your personal videos on your TV via Roku, Chromecast, Amazon Fire TV, Game Console, Smart TV, or almost any device connected to your home wifi – without plugging your PC into your TV!
Step 2: Enter your Xfinity or TWC account information here

on the Channels tab. PlayOn securely stores your streaming account information to enable you to access those channels via the PlayOn console. With PlayOn Plus, you can also record any titles from those accounts to watch offline or cast them over to your TV to watch without commercials (with PlayOn's automatic AdSkip feature).
Step 3: Browse the Xfinity or TWC channel to find the titles you are interested in recording and hit the record button. If you don't have PlayOn Plus, you'll be prompted to upgrade. Don't worry – there is a 30-day, no questions asked money-back guarantee if you're not completely satisfied. Don't want to pay until you understand how it works? You can see how the recording feature works with any of the titles in our PlayOn Picks channel without upgrading to Plus! Try it out if you want.

That's it! Now you can use your PC to do whatever you like and PlayOn will make the recording in the background. When the recording is complete – you will receive a notification, and you can then download your Xfinity or TWC title to your iPad or iPhone through the "send to iTunes" button. You can also download it to any Android device or other PC by moving it from the Windows File Explorer directory. You can "cast" your recording to your TV right from the PlayOn PC console using any connected device, or watch it from the free PlayOn channel on your Roku. It is essentially an .mp4 file for you to watch whenever and wherever you want.
If you have any questions - we're here to help: support@playon.tv!