How to Watch Hulu, CBS, Comedy Central, ESPN and Instantly Add More than 25 channels on your Roku
---
January 30, 2012 | Tracy's Blog
---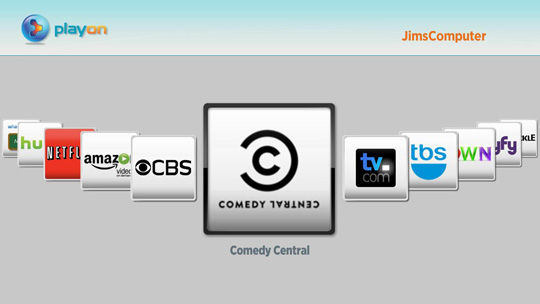 We just launched a new and much improved PlayOn channel for the Roku. PlayOn is the best way to add more channels to your Roku. PlayOn lets you watch Hulu (no Hulu Plus subscription required), CBS, Comedy Central, NBS, ABC, Fox, ESPN, and more TV, movies, sports, and entertainment channels on your Roku. PlayOn on Roku is a private channel, but it is oh so easy to set up. There are 4 great engancements that the new channel offers:
1. The new PlayOn channel on Roku has search. It's the first PlayOn interface with search, so you can just type the name of your favorite show without browsing through multiple folders.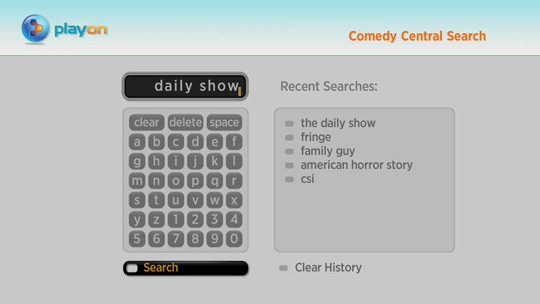 2. It has all the trick-play features properly implemented so you can fast forward, rewind and resume (woohooo!).
3. We also added personal media playing capabilities to the Roku. You can now watch your personal photo slideshows and play any music tracks from your PC on the Roku with the PlayOn Channel - just click on MyMedia.
4. The User Interface is cleaned up with pretty logos and nice thumbnails.

It's easy to set up.

Step 1: If you have the "old" PlayOn channel, delete it. You can do this by going to your Roku and selecting Channel Store from the main menu. Under the My Channels category, select PlayOn and then click on Remove Channel.
Step 2: Install the new channel by going to your PC and clicking on https://owner.roku.com/Add/PLAYON and logging into your Roku account. Then click Yes, Add Channel.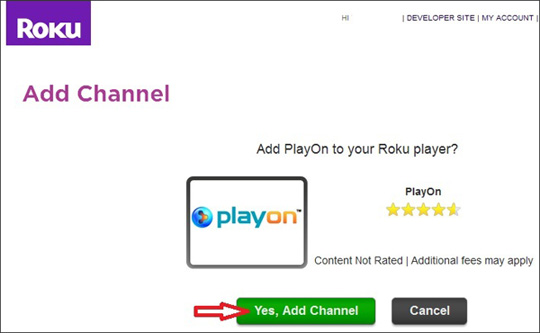 Step 3: Go back into the Channel Store on your Roku so that it adds PlayOn right away (otherwise it takes 24 hrs to update)!
Being able to search for my favorite shows (my new favorite show is Revenge, though I think it is about to get old) is a great addition (I know – it's about time!). You can also watch Happy Endings, Pan Am, American Horror Story and all the other 100+ Hulu shows that are "web-only" on your Roku with PlayOn. Of course – you don't have to pay for Hulu Plus at all if you have PlayOn – just watch regular Hulu right on your Roku through PlayOn - no additional subscription fees required.
Of course, the perfect complement to PlayOn on Roku is a Netflix subscription, at least give it a try - it's free for the first month!

That's all there is to it. Now go enjoy the new PlayOn channel on your Roku!