Catch Up on The Walking Dead Before The Premiere of Season 8
---
---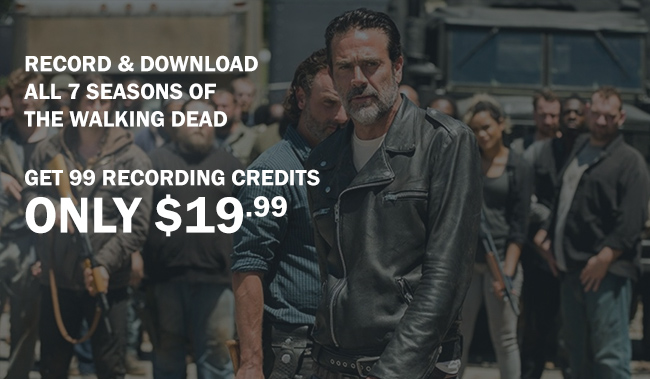 Who doesn't enjoy a good zombie apocalypse?
Marking the beginning of its 8th season, the 100th episode of The Walking Dead premieres on 10/22. All 99 episodes are available on Netflix and we've got an awesome deal for you — get 99 recording credits for $19.99 and you can record every single last episode of The Walking Dead seasons 1-7. Watch from the beginning as Rick Grimes takes those first few steps out of an abandoned hospital in Georgia and kicks off what has become one of the most gripping shows on television.
Recordings are stored in the cloud free for 30 days; downloaded recordings never expire. Cloud recording credits may be used for any video of any length — so you can download just the first 6 episodes of The Walking Dead season 1 and still have 93 recording credits to record anything else you'd like.
Wondering if you have enough storage?
Don't worry, we've got you covered. Your PlayOn Cloud recordings are always stored for 30 days in the cloud. If you'd like to store recordings past 30 days, we'll make room for them when you sign up for a PlayOn Cloud Storage plan. Plans start at just $2.99 for 50GB of storage — PLUS, you'll get extra recording credits you can use each month.