Most Downloaded Videos from PlayOn for the Week Ending 10-26-2020
---
November 3, 2020 | Tracy's Blog
---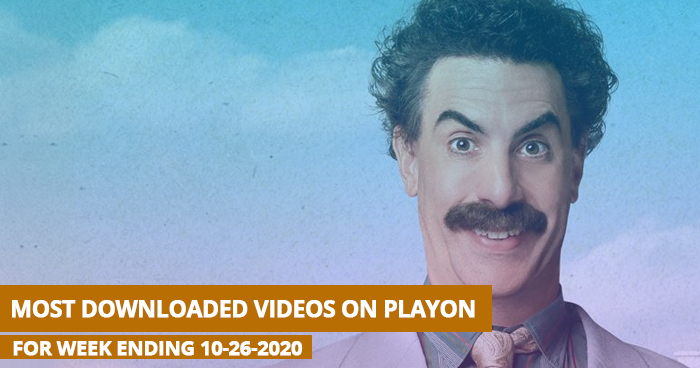 PlayOn empowers users to watch streaming videos on their own schedule—enabling them to be downloaded to any device including your PC or Mac and watched anytime you want anywhere you want. PlayOn frees you from download restrictions and lets you skip the ads when you watch.
Most Downloaded Videos from PlayOn for the Week Ending 10-26-2020

Supernatural (s15e16 Drag Me Away From You) on The CW
Borat Subsequent Moviefilm on Amazon
Supernatural (s15e15 Gimme Shelter) on The CW
Roald Dahl's The Witches on HBO Max
Star Trek: Discovery (s3e2 – Far From Home) on CBS
Lovecraft Country (s1e10) on HBO Max
Rebecca on Netflix
Borat: Cultural Learnings of America for Make Benefit Glorious Nation of Kazakhstan episodes on Amazon
Supernatural (s15e14 – Last Holiday) on The CW
Fargo (s04e05 – The Birthplace of Civilization) on Hulu
No surprise that PlayOners are still downloading The CW's Supernatural to their computers and mobile devices in droves – watching Supernatural without the ads is sooo much better. Episode 14,15 and 16 were all in the top 10 videos downloaded from PlayOn in the past week, showing that the world is crazy for downloading Supernatural. The new series streaming on Wednesdays on The CW, Swamp Thing, is also in the top 10—Episode 4 just landed last week—guessing Episode 5 will be in the next list.
Jumping right in to slot #2 is Borat in the Borat Subsequent Moviefilm on Amazon. This is raunchy, hysterical and quite timely. Download Borat with PlayOn Cloud – watch when the kids are NOT around. Folks are loving Borat so much that the original Borat: Cultural Learnings of America for Make Benefit Glorious Nation of Kazakhstan is also in the top 10. Downloading Borat with PlayOn seems to be a high priority for streamers these days.
And in comes HBOMax with Roald Dahl's The Witches – a film adaptation of his infamous book. Clearly PlayOn'ers had their Halloween on.
CBS's new season of Star Trek Discovery remains a popular video to downloaded, Season 3, Episode 2 of Star Trek Discovery landed just 5 days ago and is a must download asap for PlayOn users.
Lovecraft Country – another HBOMax special has become a popular PlayOn Download. Lovecraft Country episode 10 was the 6th most popular video to download with PlayOn.
Netflix's release of Rebecca which coincided with the theater release drew some attention from PlayOn downloaders. Downloading the new feature film Rebecca seems like a luxury during the global pandemic that has virtually stopped film production and closed the theaters.
Until next Monday….happy streaming!