Friday Night Lights – Stock Up Now on this American Classic
---
---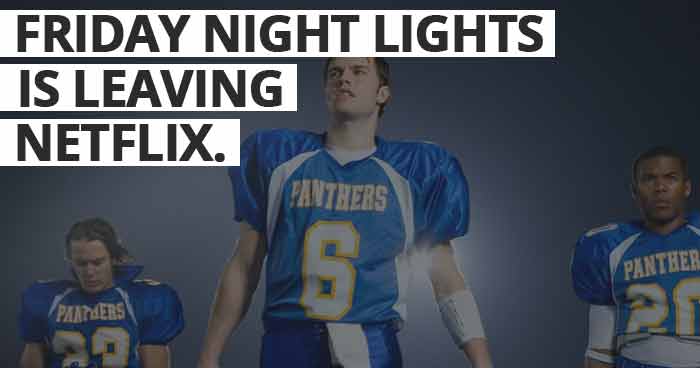 Friday Night Lights is leaving Netflix on October 1, but you won't be able to download it from Netflix. Don' fret, you can still watch Friday Night Lights offline whenever you want for only $17 when you record and download all the episodes with PlayOn Cloud. That's 76 PlayOn Cloud recording credits to record all 76 episodes of Friday Night Lights for $17. And there are no expiration dates on your downloads.
Netflix just announced that on October 1, Emmy Award Winning Friday Night Lights will be leaving. All 5 seasons – GONE. If you haven't had a chance to watch this series, treat yourself! And, if you have, you know that this is a pretty big deal. It's a show about football, yes, but at its core, it is a story about the American dream itself, told through the lens of a small Texas town. Clear Eyes, Full Hearts, Can't Lose. This, the signature phrase from the show, captures its essence in a nutshell. 
In case you need a little reminder or guidance on which episodes to check out first, here are some of our favorite Friday Night Lights episodes:
Season 1 Episode 1 - "Pilot"
The Pilot sets it all up and paints a picture Texas football and how life revolves around it. It sets the stage for a show that is about facing and overcoming adversity in ways that are not always graceful.
Season 1 Episode 3 - "Wind Sprints"
This episode captures the iconic motto of the team (and the show) in gritty, powerful fashion.
Season 1 Episode 22 - "State"
This episode recaps from the moment when the awestruck Dillon Panthers first walk out onto the field of Texas Stadium to the big game itself.
Season 2 Episode 14 - "May the Best Man Win"
Smash Williams pursues his college dreams, and coach Eric Taylor is at his most human.
Season 3 Episode 12 - "Tomorrow Blues"
Another great episode that is about growing up and moving on
Season 4 Episode 1 - "East of Dillon"
Michael B. Jordan (of "The Wire" fame and future star of Creed) makes his debut on Friday Night lights as Vince in this excellent season 4 opener that is all about change. 
Season 5 Episode 13 - "Always"
Series finales are often a let-down as they try to end on a poignant note while pleasing all fans...but not this one!  A great end to a great show!.
You Don't Have to Miss It When It's Gone
For just $17, you can record all 5 seasons (76 episodes) of Friday Night Lights with PlayOn Cloud. Then watch them when you want, where you want, no WiFi connection required.
By the way, we're not kidding around when we tell you how meaningful this show is to us - this is one of our Support Masters, Skip's favorites and the iconic catch phrase follows him on his key chain wherever he goes....