Finding Dory Is Now on Netflix. PlayOn Is The Only Way To Download It.
---
---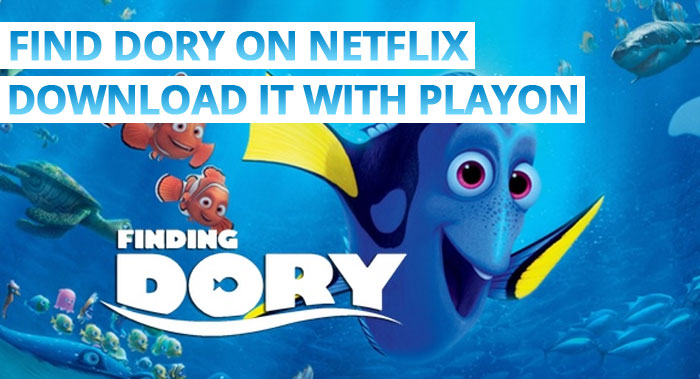 Netflix and Disney recently inked a deal to allow Netflix customers to stream Disney  movies soon after they leave the theater. No more long DVD window waits. The Disney deal also includes popular Disney shows. This is huge for moms and dads who want to entertain their kids with Disney flix on the iPad. One restriction of the deal is that the Disney movies and TV shows won't be available for download with Netflix's new download feature in their mobile app. Fortunately – PlayOn Desktop and PlayOn Cloud are around to let you download ANY Disney movie or show from Netflix. And what's even better - the content never expires. Your kids can watch Dory over and over and over (if they're anything like mine, and over again).

If you're an iPhone/iPad user, PlayOn Cloud is the perfect solution for putting Finding Dory on your phone or iPad for kid entertainment – anytime, anywhere, no data fees! Just get the app, record Finding Dory, download to any device. PlayOn Desktop is perfect for those with a PC who want to record lots of stuff – since your subscription includes unlimited recordings!
 
Either way – we've got your back. You can have your Disney movie, and download it too!

Here are some great Disney movies & shows you can record today:

Finding Dory
The Jungle Book (2016)
Narnia: The Lion, The Witch, and the Wardrobe
Lilo & Stitch
Lilo & Stitch 2
Leroy & Stitch
The Emperor's New Groove
Kronk's New Groove
Zootopia
Alice: Through the Looking Glass (2016)
Tarzan
Tarzan II
Tarzan and Jane
Brother Bear
Chicken Little
The Three Musketeers
The Nightmare Before Christmas
Legend of the Neverbeast
Fantasia
Fantasia 2000
Bill Nye the Science Guy
Mulan II
Sky High
George of the Jungle
Honey, I Shrunk the Kids
Honey, We Shrunk Ourselves
Pooh's Heffalump Movie
The Fox and the Hound 2
Atlantis: Milo's Return
Pirates of the Caribbean: Curse of the Black Pearl
Three Little Pigs
The Parent Trap (original)
The Lizzie McGuire Movie
Girl Meets World
The Brave Little Toaster
Hannah Montana: The Movies
Liv and Maddie
An Extremely Goofy Movie
Mickey and the Beanstalk
High School Musical
Phineas and Ferb
Air Bud
Space Buddies
Treasure Buddies

...and many, many more.