Aug. 23, 2009
We are excited to announce that PlayOn officially supports the Nintendo Wii -- in Beta. That means the almost 25 million Wii owners can watch Hulu, Netflix, CBS, CNN, ESPN, Amazon VOD, YouTube, AdultSwim, Crackle and much more on their TV, from their couch, using their Wii Remote. Here is what it looks like: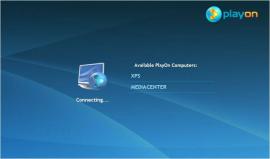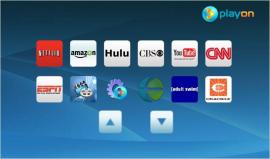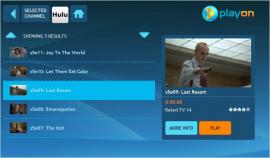 This is the first device where we have control over the User Interface, and we have tried to make it as intuitive, user friendly and pretty as possible. You be the judge.
PlayOn for the Wii is available for a free, full-featured 14-day trial, and after that licenses are available for a one-time fee of $39.99. That same license (and the same software download) will support your PS3, Xbox 360 and other DLNA devices.
How it works: PlayOn uses the "Internet Channel" on the Wii - so if you don't have this, you will need to get it. After downloading and installing PlayOn on your PC, you then open the "Internet Channel" web browser on your Wii, press the "WWW" button and enter playon.tv as the web address. You should add this page to your Wii Browser "Favorites" to make it easy to access in the future.
That's it! You can click on Hulu and find your favorite shows, or Netflix and watch that movie you have talking about seeing - right from your couch and Wiimote.
Wii support has been one of the most requested features from our users, and we are thrilled to offer this Beta release to folks who would like to give it a whirl.
PlayOn supports the broadest selection of Internet-to-TV premium content, including Hulu, Netflix, XBS, ESPN, CNN, Amazon VOD, and YouTube. And the selection of niche content is growing daily via the open PlayOn Plugin architecture, which currently includes:
Adultswim
Cartoon Network
Channel9
Crackle
Food Network
GameTrailers.com
HGTV
Local Files
NBA
NFL
Southpark Studios
Spike TV
Podcasts (OPML Player) -- with dozens of available feeds!
International channels: Danish DR and Spanish TVE
PlayOn works on a broad range of devices including PLAYSTATION 3, Xbox 360, Nintendo Wii, Moxi HD DVR, VuNow, and many other DLNA-compliant devices.
We hope you enjoy the Wii Beta and encourage you to send us feedback at support@playon.tv.
ShareThis