Jun. 26, 2014
This week, the Supreme Court of the United States ruled against Aereo and fans of live network TV streaming. If you haven't been following the case, or want more details, read this piece in The Verge.
This is a setback that, in our opinion, is the result of a fundamental misunderstanding of Consumer Fair Use and what it means. That said, there is still much room for innovation and PlayOn will continue to work to provide new solutions to empower consumers to enjoy streaming media in a manner of their choosing. With the growth of streaming media and increasingly savvy streaming consumers, we are very confident about our future and the future of other innovators in the space. We also remain optimistic that eventually our laws will catch up with consumer demand – that limited options for getting content to your TV and high prices from cable companies will be a thing of the past. In the meantime, keep an eye on our website and blog for soon-to-be-announced updates that will make streaming with PlayOn and recording with PlayLater better than ever.
ShareThis
Dec. 3, 2013
Time and time again, we have heard from users like you asking, "When is high definition coming?" Well, folks, we are so excited to announce that today's the day! PlayOn and PlayLater are now available in HD. What does this mean, exactly? Without HD, PlayOn and PlayLater deliver video up to 480p. Now with HD, PlayOn and PlayLater can deliver video quality up to 720p, as long as the channel provides content in that quality as well.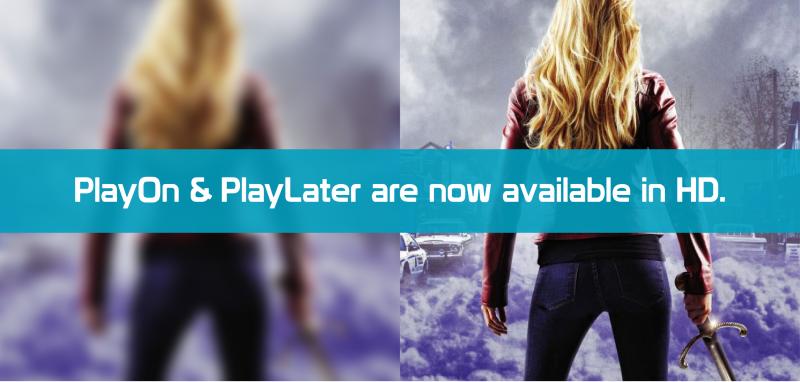 WHAT I NEED
You likely already have what you need to watch or record in HD. As long as you have a quad-core processor, your PC should be able to handle streaming and recording in HD, and if you're an existing PlayOn or PlayLater customer, the software will tell you if your PC is HD-capable. Simply go to Settings and click on the General tab. If your PC is HD capable, you will see a link to "Upgrade to HD" in the Video Performance section. If you don't have PlayOn or PlayLater, you can check your PC's PassMark score to see if it can handle HD by clicking here. If your PassMark score is 2300 or higher, your PC is HD-capable.
WHAT'S AVAILABLE
While not every channel offers high definition content, the channels listed below do. Check the list below to see what you can watch with the new HD offering:
HBOGO
Hulu Plus
NBC
NHL
Vevo
Vimeo
Amazon
YouTube
VH1
MTV
Netflix
Disney
Aereo
CBS
Fox News
TLC
Animal Planet
Redbox
Discovery Channel
Discovery Fit & Health
Investigation Discovery
Military Channel
Science Channel
Velocity Channel
TV.com
FoxSoccer
PBS
ComedyCentral
NBA
PBS Kids
Telemundo
MLB
NFL
WHAT WE'RE WATCHING
There is a ton of great HD content available on PlayOn. Below are a few of our favorites. Check back in on Thursday for some additional HD recommendations.
On YouTube check out the Documentary Channel for some cool documentaries in HD. Subscribe under your YouTube account and stream in HD using PlayOn or record in HD using PlayLater.
We love Once Upon a Time on ABC. You can catch up on the latest season in HD via Hulu
Snowed in? We recommend a TV marathon! Doctor Who, Battlestar Galactica, Damages, Falling Skies, Sons of Anarchy and Downton Abbey are all available to watch or record in HD on Amazon Instant Video.
Are you ready to see things a little more clearly on your TV or device? Head to www.playon.tv/features/HD to learn more or to add HD to your PlayOn and PlayLater licenses today!
ShareThis